"My mouth feels better than it has in many years and I'm actually looking forward to my next appointment." - S. Blackburn on

Dentist in Riverside
Meet Our Staff

Our Administrative Team
Michelle
Office Manager
Read More
Michelle began her dental career in1997 as a part of the front office team. She pursued her dental assisting education at Bryman College in the city of orange.

With over 25 years of experience, Michelle has worked as an assistant, treatment coordinator, front office administration, insurance biller, and general and specialty financial coordinator. In 2018, she initiated her dental dream role as an office manager in a private practice. She joined Smile Builder Dental in August of 2021. Her goal is to continue to work as long as she can in the dental field and eventually retire from Smile Builder Dental as this is her lifelong dream career position. Michelle is very passionate about building long term relationships with patients and colleagues. She is dedicated to helping patients feel comfortable in finishing the best financial solution for all patient's dental treatment, and her priority is to ensure that the office runs smoothly so that all patients have a wonderful memorable experience.

Outside of her work, Michelle enjoys spending time with her five beautiful children (3 boys and 2 girls), who are her pride and joy! She loves to watch her daughter Savannah (eldest) play recreational soccer, Kaleb (eldest son) play college baseball, she absolutely enjoys tasting and trying Annicka's (youngest daughter) cooking and baking, and trying new recipes with her. She also loves to watch Konner (middle son) play high school volleyball and last but not least Kollin (youngest son) play various recreational sports.

She is a proud owner of three dogs: Koa a grey Sharpei and Ziggy a white maltipoo. She adores being a grandma to Maya a black maltipoo and P.J. a Holland lop bunny.

Michelle loves country music, going to concerts, dancing, walks at the beach, wine tasting, hanging out with friends, and seeking new life adventures. She enjoys eating sushi and loves her morning coffee.
Melinda
Treatment Coordinator
Read More
Melinda has been working in the dental field since 2015. She started as a dental assistant and loved working alongside doctor helping patients. Now finds joy in helping coordinate treatment. Her goal is to guide patients through their treatment, give options along with working directly next to the doctor to create a personalized treatment plan for each and every patient according to their dental needs and financial ability.

She joined Smile Builder Dental in February 2022 as a Treatment Coordinator. She loves building relationships from the first initial phone call and all the way through their entire treatment process. She is passionate for her position and strives to make every patients appointment as smooth as possible. While away from the office she loves to do volunteer work, read, and spend time with her family and her dog Lola.
Our Dental Hygienists
Amber, RDH
Registered Dental Hygienist
Read More
Amber Nehme is a dental hygienist who is passionate about caring for patients and all things oral health. She graduated from Riverside Community College's dental hygiene program in 2006 and has worked in Riverside County for over 17 years. She later went on to obtain a bachelor's degree in dental hygiene and graduated with high honors. She is also a faculty member at a local college where she mentors future hygienists in the area.

Amber's hobbies include working out, photography, and spending time with her husband and two children.
Daisy, RDH
Registered Dental Hygienist
Read More
Daisy has been active in the field of dentistry for over 20 years. She started as a registered dental assistant and years later her passion to dentistry inspired her to further her education by becoming a dental hygienist. She completed her dental hygiene education at San Joaquin Valley College and is very proud of receiving the award of Academic Excellence.

She joined Smile Builder Dental in 2022 and enjoys educating and encouraging patients to maintain good periodontal health. Daisy loves getting to know her patients and building long term relationships.

In her spare time, she enjoys hanging out with her family or friends, watching movies, site seeing, and attending church services and activities.
Our Dental Assistants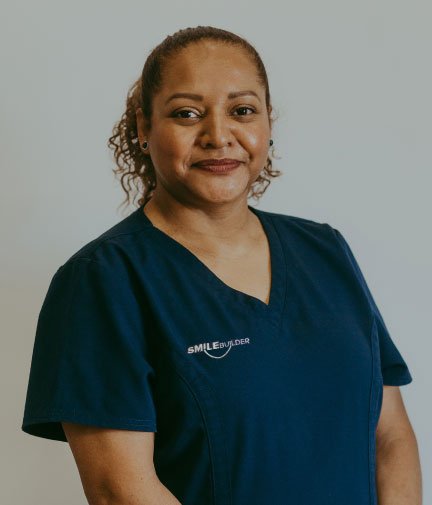 Alejandra, RDA
Registered Dental Assistant
Read More
Coming soon
Leslie, DA
Dental Assistant
Read More
Coming soon
Accepting New Patients
call 951.789.6886

The first step toward achieving a beautiful, healthy smile is to schedule a consultation.
Appointment
Get Started
Let's Talk About Your Smile
Testimonials
Our Patients Love Us!